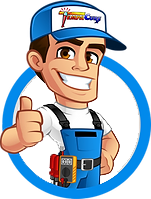 HVAC Services
Get Professional Repairs From The Area's Trusted HVAC Technicians. Ask About Our Services! We Offer Professional Heating & Cooling System Repairs And Guarantee Long-Lasting Results.
Got Question? Call us: (850) 678-2665Financing
When to Replace AC? 5 Key Indicators You Should Know
The summer heat can be brutal, and your air conditioning unit becomes essential to your daily routine to escape the heat and enjoy a comfortable living or working environment. Like all appliances, your AC unit serves you well but has a limited lifespan.
Eventually, you must replace the AC unit to ensure your comfort and safety. This article will examine the five signs that signal it's time to replace your AC unit. By the end of this article, you will know precisely what to look for, allowing you to make informed decisions about your AC system's health.
5 Signs Its Time to Replace AC
Age of the Unit
Air conditioning units that are 10 to 15 years old or older are more likely to need regular maintenance and may not operate as well as they once did. It will become challenging for the unit to meet the demands of your house or business due to constant wear and tear to internal components.
Also, because older AC units are often less energy-efficient, energy costs will be higher. While regular maintenance will help your unit last longer, it's crucial to remember that older units have a generally lower lifespan.
Hence, if the lifespan of your AC is coming to an end or has already passed, it can be more cost-effective in the long run to replace it rather than keep having it fixed.
Frequent Breakdowns
An AC unit's propensity for malfunctions and breakdowns increases with age. It's evident that your AC unit has to be replaced if you find yourself making frequent service calls and it's getting close to the end of its useful life.
Repairs can cost more in the long term because they can build up quickly and become pricey. Consider investing in a new AC unit that will be more dependable and cost-effective in the long run rather than continuing to spend money on maintenance.
Increased Energy Bills
The last thing you want to experience as the summer heat sets in is an increase in energy costs. It's time to examine your AC unit more closely if you've seen a noticeable rise in energy costs. Age-related reductions in AC units' energy efficiency increase energy costs and usage.
Greater energy costs could be caused by a number of things, including a clogged filter, leaking ducts, or a broken thermostat. But if you've ruled out these causes and your expenses are still rising, it might be time to consider upgrading your AC unit.
Inadequate Cooling
A central air conditioner's primary purpose is to chill your house or place of work effectively. It might be time for a replacement if your air conditioner has trouble keeping your room cool. When an AC unit can't keep a room at a reasonable temperature, it no longer operates effectively.
This may be brought on by a number of things, including an outdated device or clogged filters. If the problem continues despite filter cleaning or thermostat adjustments, the appliance might need to be replaced.
Strange Noises
If an AC unit is working properly, it should run quietly. It might be time to replace your unit if you notice odd noises emanating from it, such as squeaking, grinding, or rattling sounds. These noises suggest that the device may have mechanical issues and needs to be replaced.
Ignoring these symptoms could result in more severe issues, such as the appliance breaking down or posing a safety risk. It's recommended to call a qualified technician to examine the problem and determine whether a replacement is necessary if you hear odd noises emanating from your AC unit.
In conclusion, if your air conditioner exhibits any of the aforementioned symptoms, it may be time to replace it. Although buying a new AC unit may seem like a costly investment, doing so can save you money. Contact Tempacure Heating and Air Conditioning for skilled replacement assistance if you need a new AC unit.