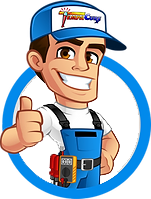 HVAC Services
Get Professional Repairs From The Area's Trusted HVAC Technicians. Ask About Our Services! We Offer Professional Heating & Cooling System Repairs And Guarantee Long-Lasting Results.
Got Question? Call us: (850) 678-2665Financing
Residential installation Coleman 14 Seer 2.5 ton gas system w/ Extended Labor Warranty
Residential installation new ceiling grills, new returns and relocate thermostat. Straped and resealed duct-work.
Residential HVAC installation
Residential HVAC service. Cleaned inside air handler cabinet, blower wheel, and replaced blower motor.
Installed 12k Mini Split Heat Pump System
90 Day follow up on Daikin 2.5 ton Fit System Heat Pump and Tstat. Everything is running properly at this time.
Service call replaced blower motor and thermostat
Residential HVAC install Coleman 14 seer 2.5 ton heat pump system.
Residential HVAC install Daikin Fit 18 seer 2.5 ton inverter driven variable speed heat pump system with Reme Halo & Blu-QR.
Residential Maintenance - found run capacitor at condenser to be weak. Replaced run capacitor and system is running properly at this time.
Residential Service Call
Commercial Install 2 Trane 14 seer straight cool 3.5 ton systems
Install in Destin
Tempacure, Replacing liquid line filter dryer
Replaced ECM blower motor on a tempstar air handler
Residential Service Call replaced condensate pump and indoor blower motor
Installed Coleman 2.5 ton heat pump system and fixed ductwork to increase return air flow
Tempacure maintenance program. Cleaning drain lines
Doing some maintenance repairs at our local storage facility
Another ducking Monday at Tempacure
Working on Daikin equipment at local storage facility
Compressor change out and a power control board.
Residential Service call. Replaced evaporator coil under parts and labor warranty
HVAC Service call fixed issues for Trane unit
Performed maintenance on customer's furnace. Changed out a weak capacitor got this unit ready for the hot summer ahead.
Changing out the condenser for this customer
Installing a new Coleman heat pump system at orthopedic associates in Niceville Fl
Installing a new Coleman heat pump system for Orthopedic Associates in Niceville Fl
Custom Ductwork installation complete for this new home
Installed a new Coleman 14 Seer 3 Ton Heat Pump System
HVAC Installation Coleman 14 Seer 2.5 Ton Gas System
Replaced this customers old unit with this new Coleman 2.5 ton heat pump system
Finishing up on another Preventative Maintenance service for our customer. Helping our customers ensure that their equipment is operating at maximum efficiency.
Service call at our local Niceville Subway
Installing a new Coleman gas furnace system today
Putting in a new Coleman heat pump system
Residential HVAC 2 ton Gas System replacement
Tempacure Inc. Heating & Air Conditioning Indoor Air Quality Specialists
Tempacure Inc. Heating & Air Conditioning newest addition to our fleet!
NW Florida's HVAC Air Quality Specialists - Serving Okaloosa, Walton and Santa Rosa Counties
Residential HVAC Service
Residential Bi-Annual Preventative Maintenance
Commercial HVAC Preventative Maintenance. Repaired leak and added refrigerant.
Preventative Maintenance and replaced run capacitor
Preventative HVAC Maintenance on 2 furnaces. No issues with either system they are running properly
Added Daikin 24k Ductless Mini-Split to this Florida room
Taking out an old gas furnace for Reroof America
HVAC System not cooling. Replaced copple line an added R 410 Refrigerant.
Installing a new Coleman gas furnace system
Residential HVAC Leak Search
Photo Gallery powered by Nearby Now