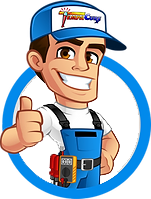 HVAC Services
Get Professional Repairs From The Area's Trusted HVAC Technicians. Ask About Our Services! We Offer Professional Heating & Cooling System Repairs And Guarantee Long-Lasting Results.
Got Question? Call us: (850) 678-2665Financing
Preventive Maintenance Plan
Annual Maintenance Plan
Bi-Annual Maintenance Plan
Quarterly Maintenance Plan
Annual Maintenance Plan
Standard 21 Point Inspection Clear out Drain Line
Make recommendations to increase performance and efficiency of system
Bi-Annual Maintenance Plan
Quarterly Maintenance Plan
Did you know? Regular preventive maintenance can:
Tempacure Heating & Air agrees to provide preventative maintenance service on all HVAC equipment at the above referenced service address. We agree to contact you in a timely manner to remind you when the service is due.
1. Check cooling/heating for proper operation.
2. Change/clean customer provided air filter as needed.
3. Tighten electrical connections at equipment
4. Inspect general condition.
5. Check/inspect start caps /run caps
6. Test equipment control systems
7. Test compressor protection device
8. Check refrigerant operating pressure
9. Check current draw of compressor
10. Check exposed equipment & pipes for leaks
11. Check compressor function
12. Check outdoor coil
13. Check indoor coil
14. Clean drain Line
15. Add drain line cleaner
Additional Services for Gas Furnaces Only:
16. Test gas valve operation
17. Test safety devices
18. Test Limit Switches
19. Test Combustion Draft Motors
20. Check Pilot & Burner Assembly for proper operation
21. Check connections of vent pipes
Guarantee and Addtional Terms:
Tempacure Heating & Air guarantees our parts & labor for 30 days. Some manufacturer's guarantee their parts for up to 1 year which, of course, is passed on to you the customer.
Any additional service work required beyond the preventative maintenance or by separate service call will be billed at our normal service rate, less 10%. The service call & parts will be billed at standard rates.
Tempacure Heating & Air Preventative Maintenance Agreement will be automatically renewed each year unless either party cancels the agreement. No written notice is required.
Our warranties do not cover Acts of God, utility company service, acts of vandalism or improper use of equipment.