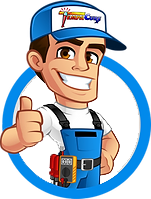 HVAC Services
Get Professional Repairs From The Area's Trusted HVAC Technicians. Ask About Our Services! We Offer Professional Heating & Cooling System Repairs And Guarantee Long-Lasting Results.
Got Question? Call us: (850) 678-2665Financing
Every now and then, your cooling system will break down.
With the extended use of these units due to Covid-19 and more time at home using your Air System, come summertime, problems are likely to occur eventually. For these unfortunate times, you need an HVAC company you can trust.
Call Tempacure Air Conditioning Services today ~ 850-678-COOL
We have the best technicians in the area and our products are exceptional. Need a new AC unit? We install top-of-the line cooling systems for your home or business.
We understand how frustrating and annoying a broken AC unit can be. You're sweating, you're uncomfortable, and you just want the problem fixed fast. We have your solution!
Tempacure Air Conditioning Services has speedy fast repair services, aimed at your time and aimed at your budget. Don't get stuck with the poor service from other HVAC companies. We always make our customers the absolute #1 priority and we take pride in our fantastic services!
​
Call Tempacure Air Conditioning Services today ~ 850-678-COOL