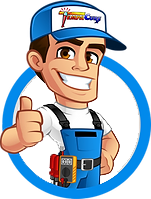 HVAC Services
Get Professional Repairs From The Area's Trusted HVAC Technicians. Ask About Our Services! We Offer Professional Heating & Cooling System Repairs And Guarantee Long-Lasting Results.
Got Question? Call us: (850) 678-2665Financing
Heating Contractor
Niceville
Financing
Financing Availabe for All Your Comfort needs Subject to credit approval
We are entirely dependent on HVAC systems all year round for our comfort. But when it comes to its maintenance, people usually delay until they become bigger ones. To identify those problems your system might encounter, you need to hire a professional Niceville heating contractor for reliable service. At Tempacure Heating and Air Conditioning, we are known for our excellent services. If you reside in Niceville, DeFuniak, Crestview, Navarre, Fort Walton Beach, Okaloosa County, or other nearby areas, contact us, and we will provide you with the best possible solutions.
Signs You Might Need To Call Us:
There can be a lot of problems your heating system might be facing. Note that only professionals can detect and solve those. The signs could be:
Heater Not Warming the House:
If the heater is not warming the entire house properly and there are still cold places left, there must be a technical problem. Hire a professional heating contractor immediately to get your heating issues figured out so that it does not cause further damage. Tempacure Heating and Air Conditioning have an entire team of professionals who daily encounter these cases. Contact us, and we will provide you with all the technical services your heater needs.
If the problem your heater is facing involves electric failure, then you need to contact an expert technician. A wiring failure can not only damage your HVAC system but also can be lethal. Our company has expert technicians who can provide you with all the electrical services regarding your HVAC system. Call us, and we will be at your doorstep.
You should have a regular maintenance checkup; otherwise, your HVAC system will break down in just a few years. Our company, Tempacure Heating and Air Conditioning give the best maintenance plans, so get your HVAC system checked up by us.
Unusual Noises Coming Out of Furnace:
If unusual noises are coming out of your furnace, it is a clear sign that you should contact an expert technician. There can be various reasons behind these noises that you will only get to know with the help of a technician. We provide all kinds of services and our team will not only detect the reason but also give you tips on decreasing the chance of further problems.
Why Choose Us?
We have a team of experienced and professional technicians who will serve you with their expertise in all kinds of services your heater needs. So, call us and get your maintaining and repairing tasks done.